Interpreting Scan Results
Interpreting Scan Results
Nmap's output is displayed during and after a scan. This output will be familiar to Nmap users. Except for Zenmap's color highlighting, this doesn't offer any visualization advantages over running Nmap in a terminal. However, other parts of Zenmap's interface interpret and aggregate the terminal output in a way that makes scan results easier to understand and use.
Each scan window contains five tabs which each display different aspects of the scan results. They are: "Nmap Output", "Ports / Hosts", "Topology", "Host Details", and "Scans". Each of these are discussed in this section.
Figure 12.4. Host selection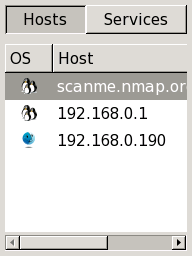 On the left side of Zenmap's main window is a column headed by two buttons labeled "Hosts" and "Services". Clicking the "Hosts" button will bring up a list of all hosts that were scanned, as in Figure 12.4. Commonly this contains just a single host, but it can contain thousands in a large scan. The host list can be sorted by OS or host name/IP address by clicking the headers at the top of the list. Selecting a host will cause the "Ports / Hosts" tab to display the interesting ports on that host.
Each host is labeled with its host name or IP address and has an icon indicating the operating system that was detected for that host. The icon is meaningful only if OS detection (-O) was performed. Otherwise, the icon will be a default one indicating that the OS is unknown. Figure 12.5 shows all possible icons. Note that Nmap's OS detection cannot always provide the level of specificity implied by the icons; for example a Red Hat Linux host will often be displayed with the generic Linux icon.
Figure 12.5. OS icons
| | | |
| --- | --- | --- |
|  FreeBSD |  Irix |  Linux |
|  Mac OS |  OpenBSD |  Red Hat Linux |
|  Solaris or OpenSolaris |  Ubuntu Linux |  Windows |
|  Other (no specific icon) |  OS detection not performed |   |
Figure 12.6. Service selection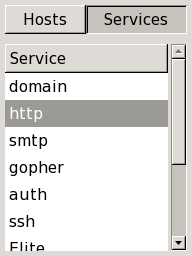 Above the same list that contains all the scanned hosts is a button labeled "Services". Clicking that will change the list into a list of all ports that are open, filtered, or open|filtered on any of the targets, as shown in Figure 12.6. (Ports that were not listed explicitly in Nmap output are not included.) The ports are identified by service name (http, ftp, etc.). The list can be sorted by clicking the header of the list.
Selecting a host will cause the "Ports / Hosts" tab to display all the hosts that have that service open or filtered.